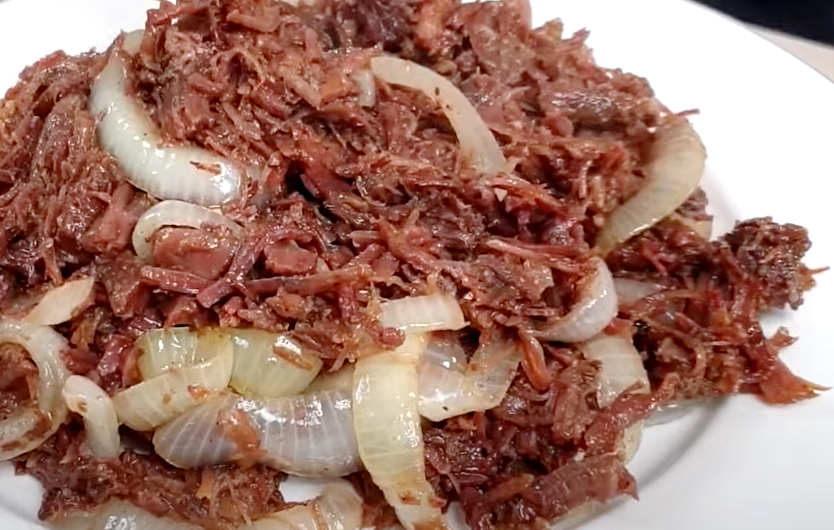 Filipino corned beef is one of the most delicious Filipino dishes. Apart from the soft chopped beef, the ingredients are simple but addictive. Eat Filipino corned beef with hot rice and feel the pleasure of this dish. Filipino beef recipe we share here uses real beef, no preservatives, so the taste will be more authentic. Here we go!
Ingredients
26 ounces of beef (buy here)
½ or more tablespoons of paprika, to taste (buy here)
½ tablespoons of ground pepper (buy here)
1 bay leaves (buy here)
½ sets of garlic cloves (buy here)
1 cups of water
½ tablespoons of onion powder (buy here)
Dried chili, optional (buy here)
½ clove of white onion (buy here)
Salt, pepper and sugar to taste
Equipment
Pressure cooker (buy here)
Angela Dimayuga Filipinx Cookbook
How to make Filipino corned beef
Slice the beef in medium size.
Prepare a pressure cooker, add beef and all the spices. Close the pressure cooker.
Using medium heat, cook all ingredients for 1 hour. Lower the heat to low after the first whistle. Let it boil.
Make sure to release all the steam pressure in the pressure cooker through the vent tube before opening the lid.
Remove the beef using a sieve, place it in a large container. Remove the bay leaves and chilies.
Shred the beef using two forks, according to taste.
Heat the pan in medium heat, add a little oil, spread it.
Add the white onion, stir-fry for a while, then add the shredded beef.
Add salt, pepper and sugar to taste. Stir until the mixture is dry and there is no more water from the beef.
Your Filipino corned beef is ready to be served.
Want other Filipino recipes besides the Filipino beef recipe above? Get more in the Filipino cookbooks that we have compiled in "11 Best Filipino Cookbooks"
This Filipino corned beef recipe adapts the nice recipe from the Wandering Kusina channel.