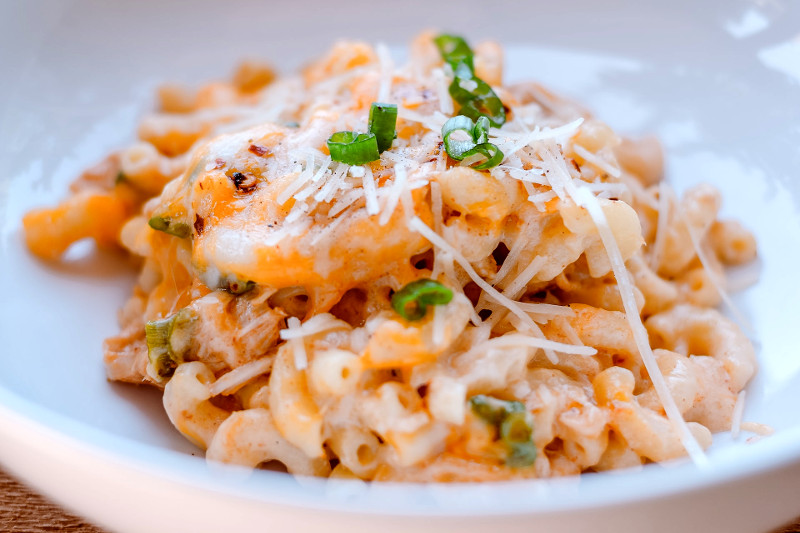 If you want to recook a delicious but easy and fast Gordon Ramsay recipe, Gordon Ramsay mac and cheese is the best choice. Here, we present a creamy mac and cheese recipe inspired by this great chef.
Ingredients
8 ounces box of elbow macaroni (buy here)
Half cup grated parmesan cheese (buy here)
Half cup grated Manchego cheese
Half cup grated smoked gouda cheese (buy here)
Milk and heavy cream as needed (buy here)
2 tbsp butter
1 tbsp flour)
Toasted bread crumbs (buy here)
Chopped chives (buy here)
How to Make Gordon Ramsay Mac and Cheese
First of all preheat your oven at 400 F
Cook your Macaroni in salted water until it boils
Grate all the cheese and set aside.
Put the sauce pan on the stove, use medium heat, then add butter to it.
After the butter has melted, add the flour. Whisk constantly and let cook for about 2-3 minutes to create a roux.
Add salt and pepper to taste with milk and heavy cream. Mix well.
Add all grated cheese and whisk together with the roux. Let it cook for about a minute or two. Add a little milk if the sauce is too thick.
After the sauce is ready, add the macaroni and stir until smooth.
When the sauce has coated the macaroni well, transfer it to a baking tray that has been smeared with oil.
Sprinkle the breadcrumbs over the Mac and cheese. Then sprinkle again with grated cheese.
Bake in preheated 400 F oven for about 10 or until all the cheese is melted.
Sprinkle some fresh chopped chives on top and enjoy your Gordon Ramsay mac and cheese!
Want to recook other delicious recipes besides Gordon Ramsay mac and cheese recipe? We recommend that you learn about it directly through Gordon Ramsay cookbooks. If you are confused about choosing the best cookbook for you, read our article 12 Best Gordon Ramsay Cookbooks.